Crufts we decided to make 2011 the time to book and go .Little did I know that the judging that year was very controversial with many dogs not placed and cards withheld ...
We arrived in Birmingham the day before the start of Crufts so we could attend everyday and go shopping at the NEC its easy by train everyday from the city its about 15 mins .I purchased my Crufts tickets and Train tickets online from Australia before I travelled so I saved alot of money. Train travel is very expensive if purchased at the Station so I would suggest you do the same if you are thinking of going .
. Birmingham Shopping Center called the Bullring is right across from the station is massive with great shopping I liked H & M the most and bought up big in the clothes department .We booked our hotel on line and I payed half price for twin share ..You can book accomadation inside NEC as hotel are connected and on the Train line I would suggest this if you are on your own .
When the train get into the NEC its just a short walk all covered to the Halls .
I would suggest first day you get a copy of Crufts Official Show Guide its brilliant ,tell you each day what rings and you can decided what you want to see in what ring and time .
5 Halls,The Pavilion,The Arena .and the Piazza .
Just so you get an idea of what's going on on Hound/Terrier day it stars at 8.30am and ends at 9pm each night .
Arena .seats 7000 full programme Agility,Heelwork to music,Good Citizen to name just a few .
Hall 3YKC Young Kennel Club Ring ,full programme from Grooming ,to obedience,heelwork to music finishes at 5pm
Hall 3 GCDS Ring full programme .
Hall 3 Dog Activities Ring full programme .
Hall 5 Obedience Ring full programme .
While all this is going on you also have all the Merchandise stalls ..
Also of great interest is the Breed Information stalls .gives you the chance to see breeds that we do not have in Australia ..
Just a few facts on Hound/Terrier Day 2011 Catalogue was 7 pound .466 pages with nearly 6000 dogs (3447 Hounds)
Ridgebacks were in Ring 30 Hall 5 ..with 230 in the breed .
Seats around the rings are like gold so be early and get a front row seat ,we were a little bit late but still managed to get the best seat in the house ..front row ..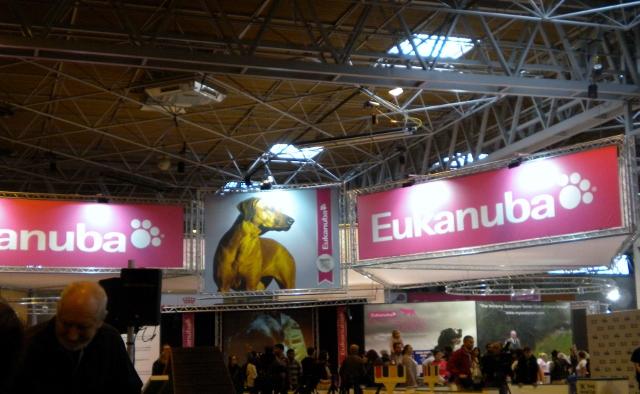 What a thrill to walk into NEC and see a Ridgeback
Shopping
There are Halls 5 in all that have the breed rings and the stalls ..the amount of Ridgeback merchandise was amazing and I basically I bought everything ,so take a carry bag some people had a bag on wheels ,and good walking shoes its a big place ..we found the International visitors Lounge very nice and had afternoon tea ,we also ended up on the table next to alot of the Crufts judges which was very interesting ..we also found it easy to get lunch and find a seat everyday so that was a bonus as we had be told it was very difficult .
I was thrilled with the beautiful prints and came home with 3 and the most beautiful bronze head of a Ridgeback ..(which caused no end of interest from every airport security check we went through on the way home I became adept at taking it out unwrapping it and have it taken away to be scanned !!) When we met up and sat ringside with fellow Aussie Lyn Harwood (kinshasa)on Ridgeback Day we swapped Ridgeback merchandise stalls and Lyn pointed to my scarf with a gemstone on it with a Ridgeback and said 'Hey sarah I was going to buy that (I got the only one the lady made ).
Breeders Group ,Mum and I had front row seats watching the best breeders groups in the UK .Ridgebacks from Veltkammer were in this group .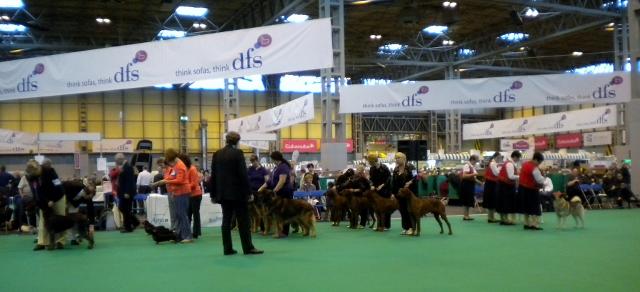 Junior Kennel Club Heats
Mum and I loved watching the Junior handlers the standard was excellent .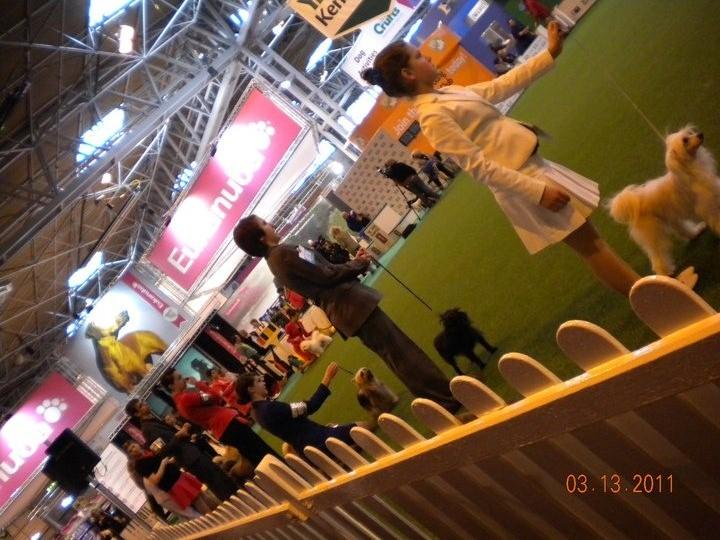 Young Handler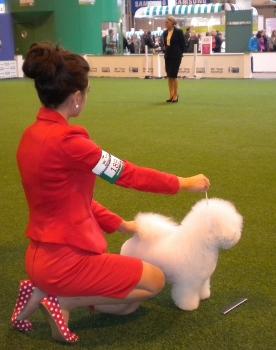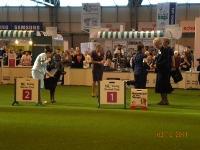 Young Handler of the Year winner
The Arena watching the Hound Group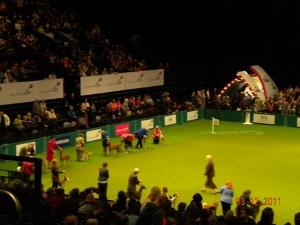 Ridgeback Day .
The breed entry was over 200 and it was great to see the people and Ridgebacks I had become friends with on Facebook and fellow breeders I had said I would catch up with ringside .
Wonderful to finally met Linda (Veldtkammer),Ali and Lena (Kiromol) ..say a very brief hello to Julie(Gunthwaite)was very dissapointed that the Gunthwaite dogs ie Becky were not entered this year ,would have loved to have seen her . And see Sue (Imbali) as well who we met 20 years ago in WA . Of most Interest to me were the dogs bred down from my Umkimzulu lines and it was wonderful to see them shown and to met up with the owners and breeders I had heard a lot about .
The Irish Girls Lydia Cooper (Druimderg ) Jane Anthony Rottzridge) I just loved the dogs they had and we had a great catch up ..I hope to get to see the girls and there wonderful Ridgebacks again in 2013 soon ..
Lydia and Alfie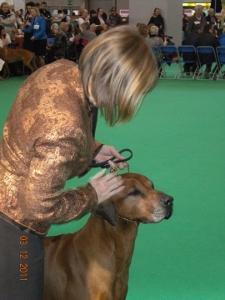 The Crufts Catalougue was a bit confusing as the classes are different ,you might have a number but you go in the ring in any order and some dogs go in two classes ,it took a while before I got the jist of it and thankfully every class winner were written up on a white board near the ring ,it helped that we were sitting right in the ring as it were . I found it strange that you could talk to people pat the dogs while they were in the ring waiting to be judged ..I found it really funny that the Lady whom was awarded Best Of Breed was talking away to me and stayed in the ring so I could take pictures !!She even asked me where her Rosette was ! I had to tell her that her friend took it .. She told me it was her deam to win at Crufts and she was just so thrilled to win .
Crowd around the Ridgeback Ring .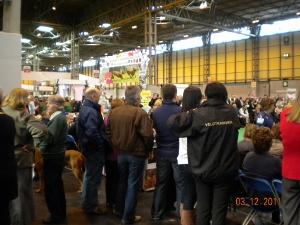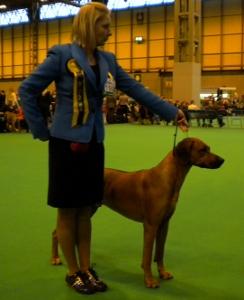 Dorothy with her
Best Of Breed Ridgeback .