UMKIMZULU puppy information and what we offer our puppy buyers and our ethics as breeders .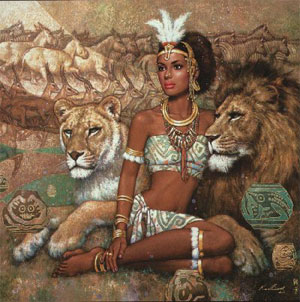 Though intangible, character and temperament are more real and lasting than physical excellence, essential though the latter may be. For every ridgeback that wins show prizes there are hundreds which are treasured, trusted companions.
- Major T.C.Hawley.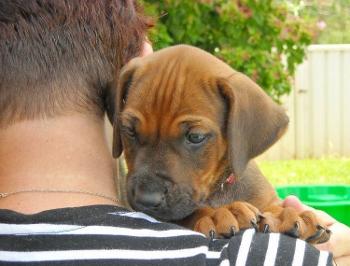 A PUPPY FROM UMKIMZULU
PICKING UP YOUR PUPPY
EVERY UMKIMZULU PUPPY ..goes home with a goody bag ..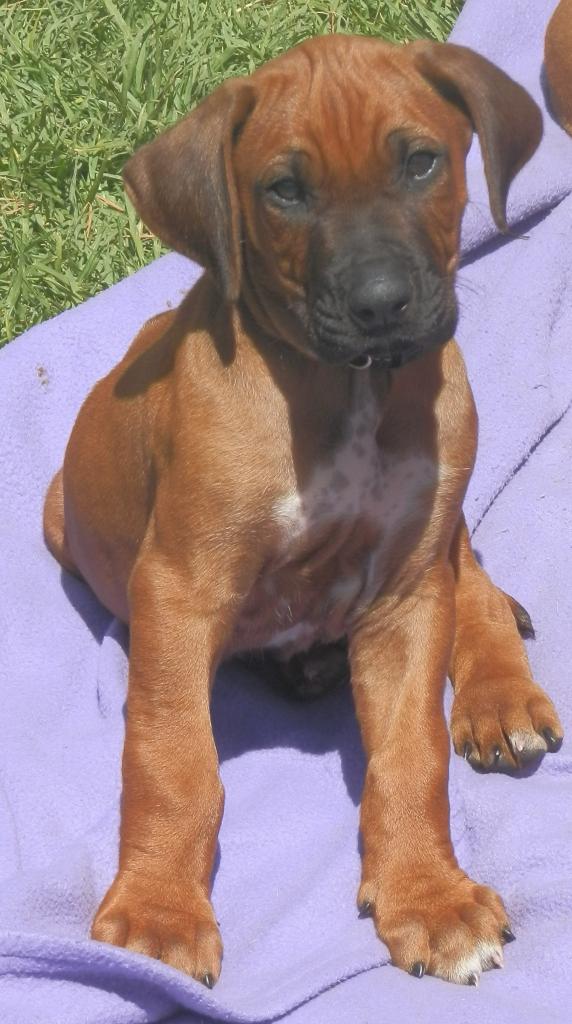 *Official Umkimzulu Breed Booklet designed by us .
*Puppy Blanket *Toys *Collar
* Puppy Pads
*DOGS TAS ORANGE/BLUE Papers
*Health Warranty fully checked at birth by Vet vaccinated at 6 weeks,including vets name and details .
*FULL BREEDERS SUPPORT FOR THE LIFE OF YOUR DOG
*Fully Wormed every 2 weeks with Drontal,(details in booklet) *Vaccinated(C4) and full health check,
*Micro chipped
*Checked for Dermoid Sinus ,by vet,and myself.
*Heartworm treatment advised
*Protected from flea's with a treatment of Frontline .
*De Sexing Contract pets only ORANGE Papers
*Pups picked up locally a few days of food and toys .
*Extensively socialised puppy sights and sounds
*Information regarding Pet Insurance
*Copies of Hips and Elbow scores of parents
*Copies of testing of DM when applicable .
*Extensive Breed knowledge 29 years
* Return to us policy for the dogs life
*Puppys raised with the philosophy of Dr Ian Dunbar and my own form of puppy culture .
* We also crate train your puppy for you
* I personally take the puppy to the Airport and put the puppy in the traveling crate with a blanket and toys ,
We keep the breed at heart, this is NOT a hobby for us
We also update lots of photos and videos either to our web site or to the facebook page for the litter .
That way you can see them playing and growing and you can also see the puppy area that makes for happy healthy pups .
Puppy parent visiting day is after the 6 week vaccination everyone is welcome to come and visit .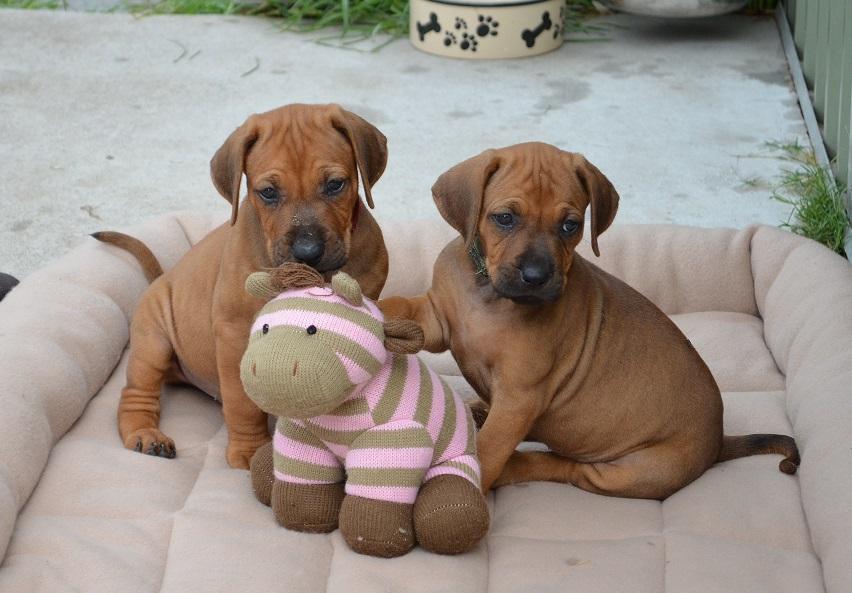 All Umkimzulu pups are sold in good faith
Umkimzulu is a REGISTERED BREEDER with DOGS TAS and all our dogs are registered with our local council .
Breeding stock has Full Dentition ,Exceptional bloodlines .
Tested for Degenerative Myelopathy(DM).
Tested for EOAD - Early Onset Adult Deafness
Tested for Hip and Elbow dysplasia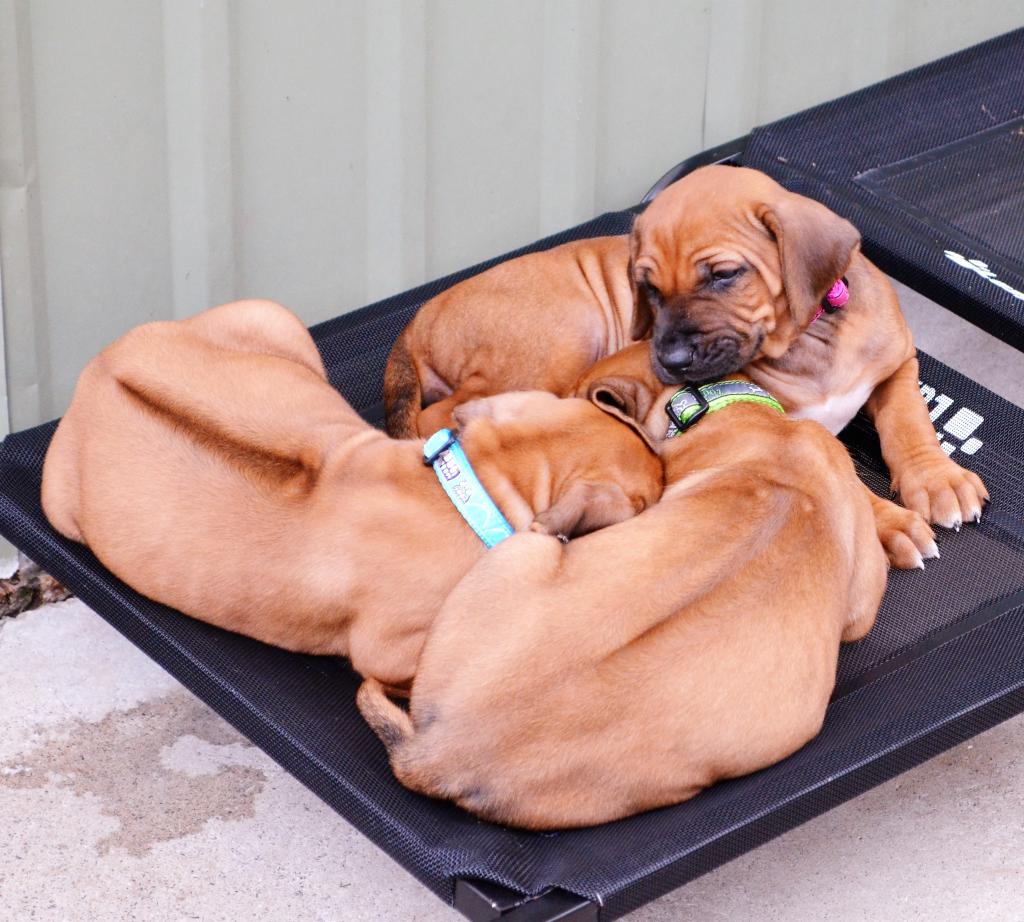 If you are interested in a family member and have no intentions to show your pup then you will be purchasing a puppy that will also come with a de sexing contract. (ORANGE PAPERS).COMPANION PUPS (not for showing nor breeding ). (ORANGE PAPERS).COMPANION PUPS (ridgeless) We may sometimes have a ridgeless puppy's whom we will offer at a special price .. we believe its unethical not to raise these pups .These pups will come with all the paperwork and contracts .
WE DO NOT SELL PUPS WITHOUT PAPERS BE THEM PET OR SHOW .
Umkimzulu Rhodesian Ridgeback Mission Statement : When an Umkimzulu puppy is ordered by a person from Overseas we deal with the puppy buyer personally arranging all vaccination's vet checks transport and flight details here in Australia . We do not and we will not deal in anyway with puppy brokers to sell our puppies. Umkimzulu do not and never will sell our puppy's to pet shops either here in Australia or Overseas .
UMKIMZULU PUPPY HOUSE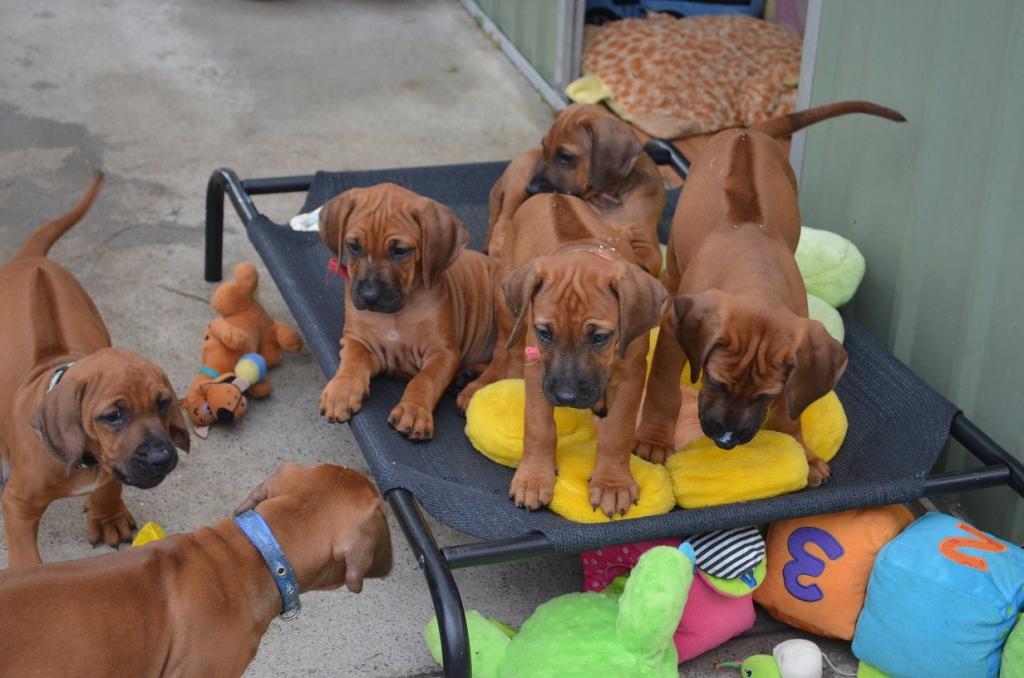 (BLUE PAPERS ) SHOW/BREEDING PROSPECT (Co- Owned with Umkimzulu ) If you are interested in showing your puppy it will be carefully selected and you need to register your interest early .Just because a puppy has a correct ridge does not make it a show puppy ,so much more goes into the conformation of a show potential puppy than that .That's when our experience comes into play .We will not sell a puppy to you unless we would be happy to exhibit it ourselves .If you are interested in a show qlty puppy please contact me . (PLEASE NOTE ALL BLUE PAPERED PUPS WILL BE CO- OWNED) (contracts apply for two years on co ownership)
Co Ownership POA BLUE PAPERS ONLY OFFERED TO ESTABLISHED SHOW KENNELS .
. All Show/Breeding pups please contact me regarding this price pups come with full registration papers(Blue)and will be co owned . We have a GREAT DEMAND for our pups so u need to be placed on our puppy parents list ..OR U WILL MISS OUT !
We used the following Hunter Valley vet practices: Cessnock Vet Hospital for all our puppy vet care when we lived in NSW,vaccinations, micro chipping health checks and sinus checks . . Greencross Vet Wyoming for specialist care ,breeding . (Peter owns one of our Ridgebacks )If you wish to confirm reassurance or recommendation please do not hesitate to call they know us well and know how we raise our pups and care for our dogs and will not hesitate to recommend our dogs and our puppy's . Since moving to Tasmania West Coast veterinary and Wynyard looks after all our dogs .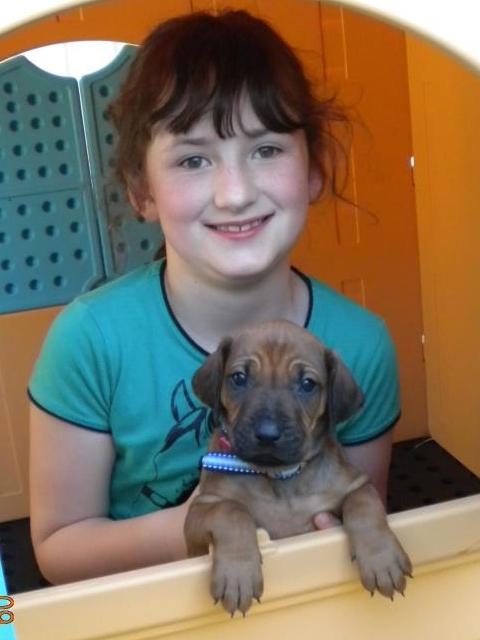 UMKIMZULU : BREEDING ETHICS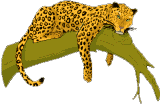 He's gone from hunting lions to capturing the hearts of his people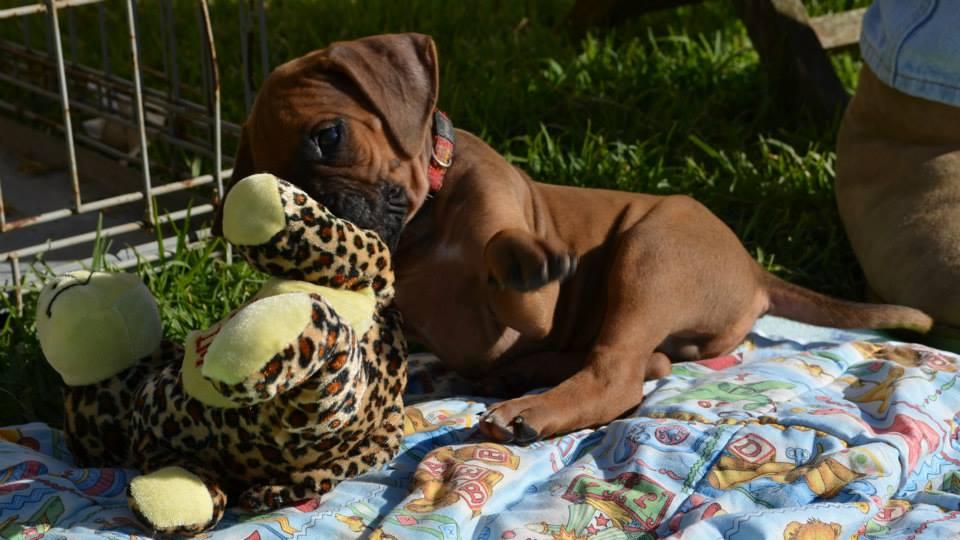 We only breed for ourselves and these litters are well researched and planned . Each Umkimzulu litter has a theme and each registered name is special to us . We are very honoured to have Ridgebacks that are admired by many so quite a few of our homebred dogs have gained show titles being owned and handled by others .So we can say that we just don't show and title our own stock .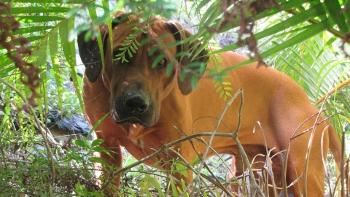 We have a pedigree data base with over 12'000 Ridgeback's. .We are fully committed to our breed so we only include Ridgebacks in our breeding plan who are sound in mind , body and soul .These dogs combine some of the top winning bloodlines in this country and from Overseas in fact there isn't a place we won't look to find the best dogs for our breeding programe these include Multi Best In Speciality & Multi Best In Show winners All Breeds. We have used imported dogs and semen to extend our lines .
SNUGGLES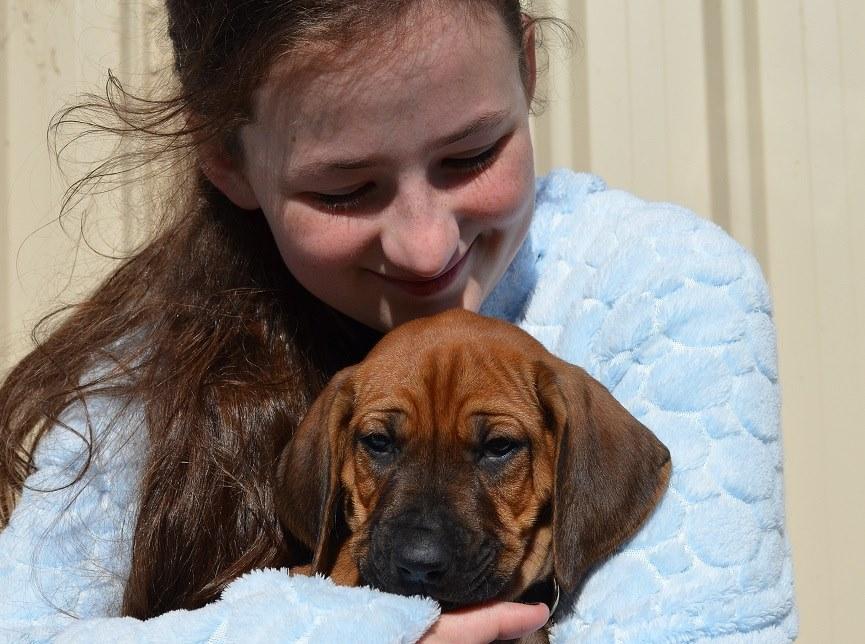 Umkimzulu pride itself on our South African and Zimbabwean lines and are the only kennels in Australia to have such a strong african line in our dogs .
I have plans for my other girls to in the future using our usual standard of high quality stud dogs from all over Australia and Overseas I am very lucky that I have been given the opportunity of using the dogs that I have selected over the years its a testament to the quality of my bitches and also my personal view to blend and introduce new and exciting lines when possible. We are quite happy to talk about future plans the world of Ridgebacks can be very interesting .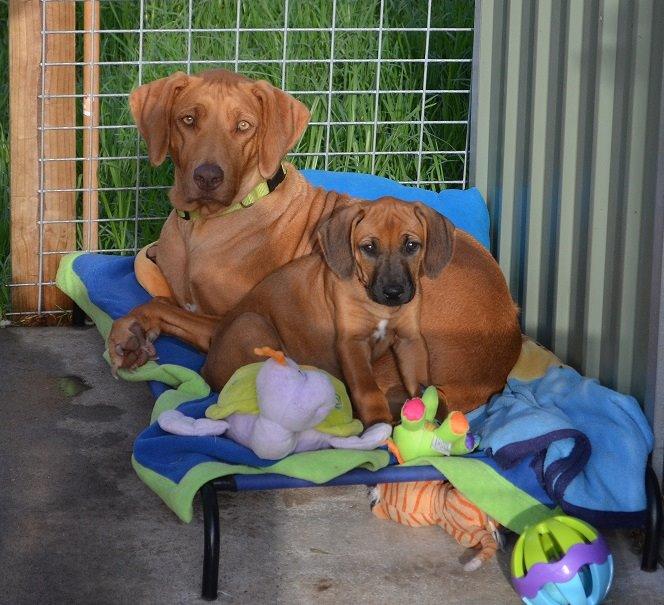 PLEASE LOOK ON THE CURRENT LITTER PAGE for INFO
HOW WE RAISE OUR PUPS
SOCIALISATION IS VERY IMPORTANT.
All of our pups are born with us in attendance and with a "hand's on" approach from Day 1. Each pup is raised in our home and is well socialized with people children dogs and cats .I provide a very interesting and stimulant environment as can be seen by my puppy play area .Its vital to a puppy to be provided with as much stimulation as possible from as early an age as possible .They enjoy the garden and all the different toys and things to climb on different things are added everyday. I also have music and everyday household noises . We have been raising our pups like this for years . Umkimzulu pups are born in my home I have a room with the whelping box and a bed for myself and a TV ,
Its air conditioned and heated my pups get round the clock attention and we don't know go to any shows while we have pups .At 4 weeks they go outside for short plat time I have two areas a grassed play area with all the tents tunnels and play gyms ,and a concrete area that includes a large puppy house that has a big day bed ,The pups can stay outside in safety but they always come inside at night to sleep .I raise my pups with a combination of Puppy Culture and Dr Ian Dunbar's philosophy .
I am raising bold confident happy outgoing pups .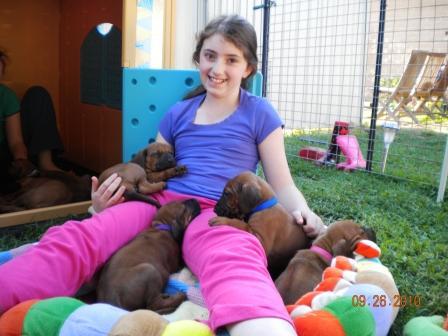 LOTS OF INTERACTION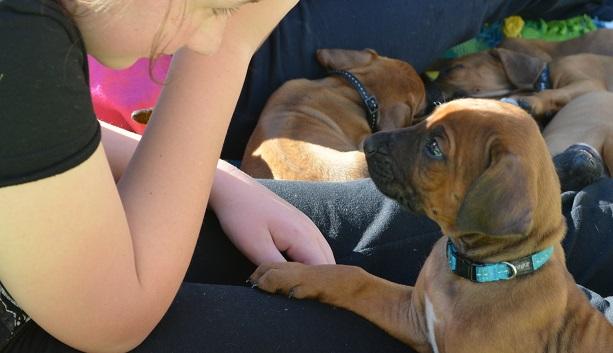 "If you are looking for a strong, confident dog, a dog who encompasses gentleness, hard headedness, and a sense of humour in a easy-care package, the Rhodesian Ridgeback may be the perfect match."
BEAN BAG FUN
LOTS OF TIME OUTSIDE IN THE GARDEN
BALL PIT FUN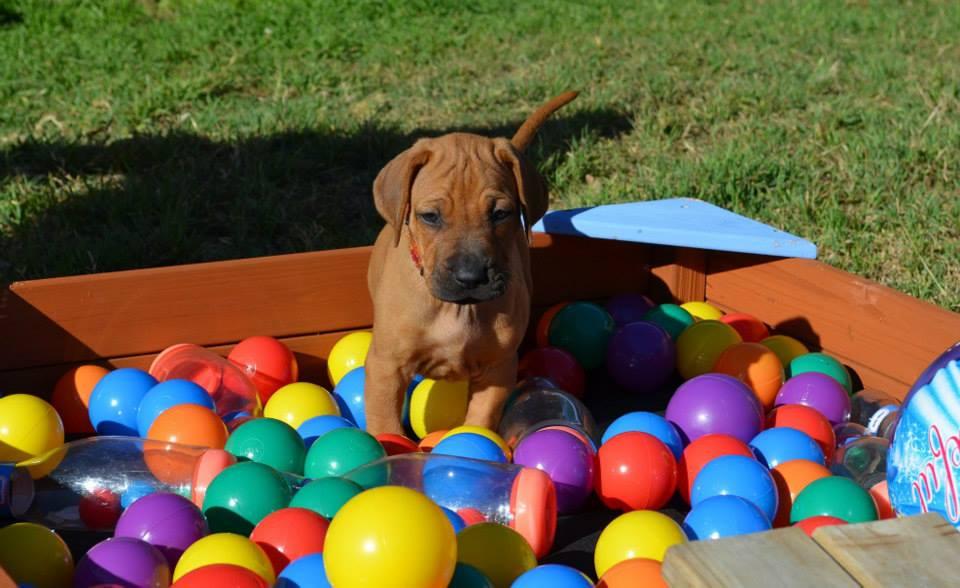 PUPPY PRE SCHOOL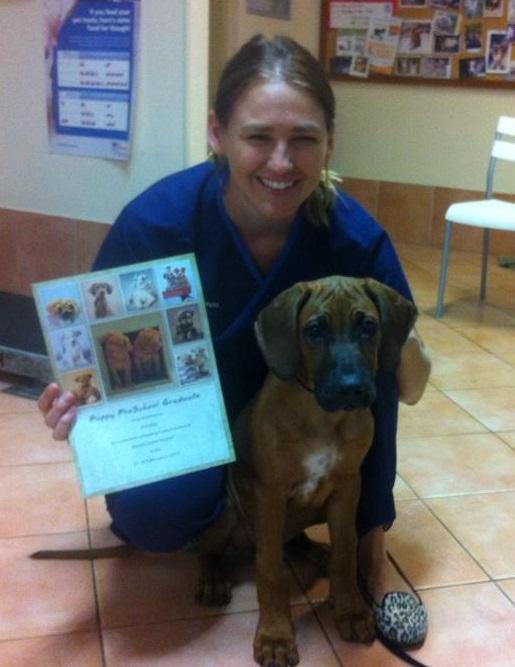 Puppy Socialisation 8 weeks, 12 weeks 18 weeks .
Your job starts when you get your puppy home .Invite as many people as you can to come and see the puppy ,they will be pleased your asked them .Men Woman and Children .Lots of different sights and sounds your puppy needs this interaction to make them outgoing and happy in any environment .
Home is a safe place to meet lots of new and interesting people .
You can take them in the car for rides and get yourself a puppy backpack or just carry them under your arm if you visit a market or the local school.
Once the have all the vaccinations then they can go out into the big wide world .
Puppy Pre School 10 weeks
We suggest you book your puppy into puppy pre school at your local vets
Is designed for puppies and its all about socialisation with other puppy's different breeds and sizes of dogs .
The aim is to socialise your puppy in a safe environment.
If you want your puppy to go another round so it meets more dogs then just go back again it cant hurt .
Classes are held at the vet clinic giving your puppy an enjoyable experience that reduces stress on further visits .Its important that your puppy has happy visits .
Please contact your vet to book your puppy in .
You can also enjoy a basic obedience class for more chances to meet dogs and other dog owners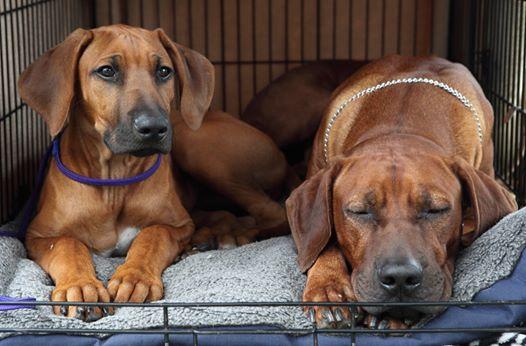 UMKIMZULU BREEDERS SUPPORT
What does that mean ? We have been offering breeders support for well over 25 years that means we are always available to you if you need an help or advice about your dog or puppy . We also offer help and advice if for whatever reason you cannot care for you dog we do not judge we just want to make sure we support you and the dog we bred to settle into a new home .In some instances we can take the dog back to live with us until we find a suitable home .
UMKIMZULU CONTRACTS
Don't be scared they are basic and just outline what we expect of you and to make sure you are a wear of the responsibility of owning a Ridgebacks .
pet pups come with a de sexing contract attached .
UMKIMZULU BREED BOOKLETT
We have been offering our book for over 25 years now we can either give you a hard copy or send via email .
This covers everything you need to know about the breed and your puppy .