NEW LITTER ANNOUNCMENT :
THE (ALICE) WONDERLAND LITTER
PUPS BORN 8thOctober
3 BEAUTIFUL GIRLS ALL SPOKEN FOR
Umkimzulu Some Bunny Loves U *RUBY
Umkimzulu Don't be a Funny Bunny *
Umkimzulu Bunnys Heart N Tarts * ZARA
Vaccinated vet checked micro chipped at 6 weeks passed with flying colours .
PUPPY PARENTS VISITING DAY ..
NEARLY 5 WEEKS ..ITS A MAD HATTERS TEA PARTY !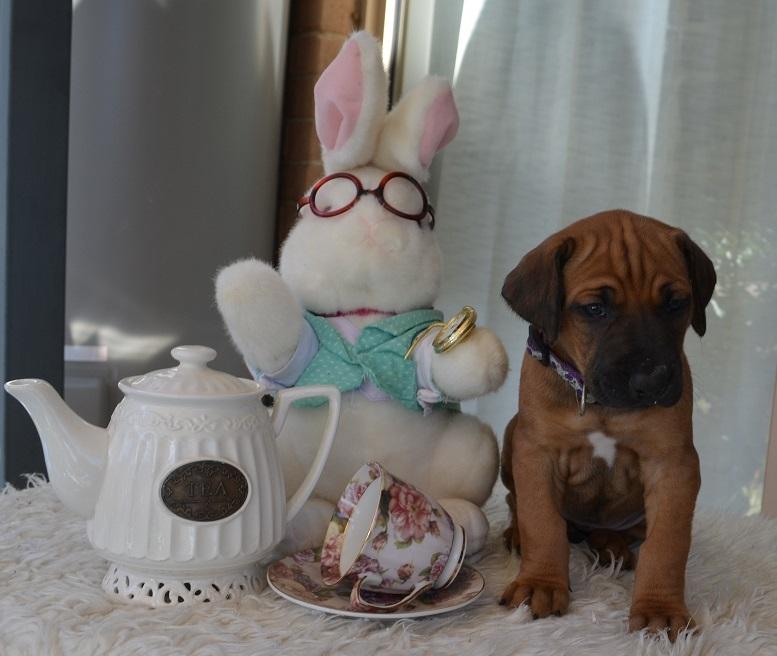 POSING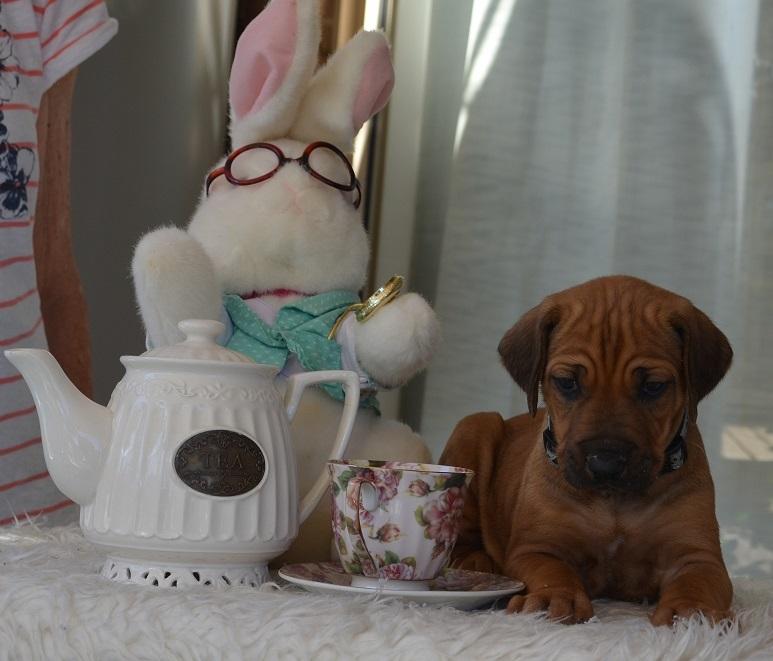 SOMEONES HAD TO MUCH TEA !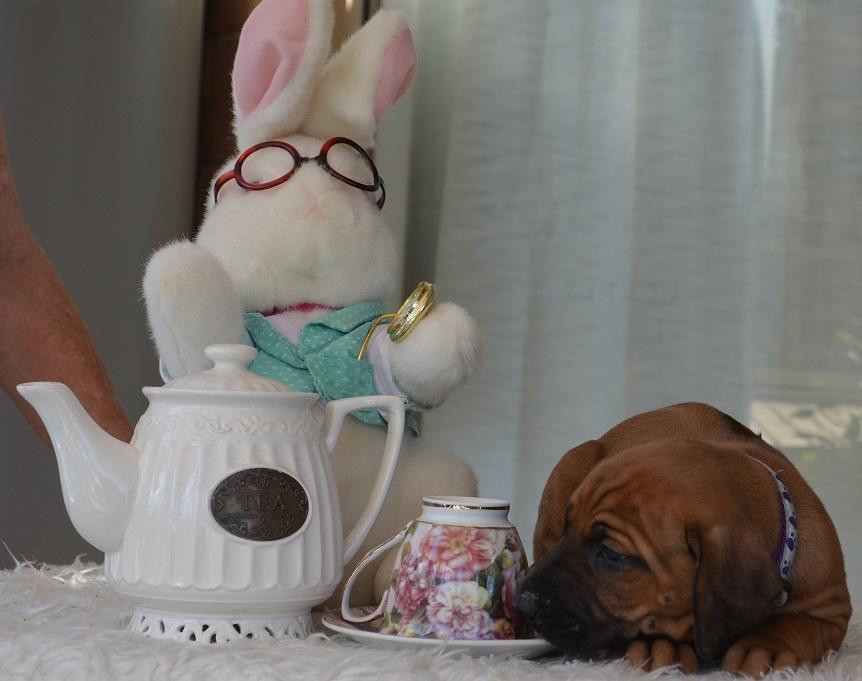 OUTSIDE IN THE GARDEN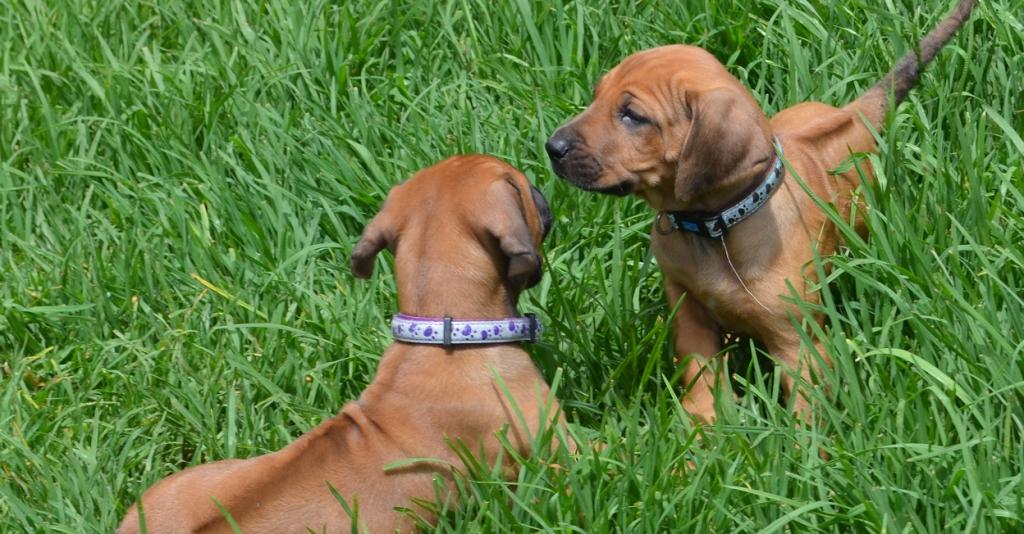 PLAYTIME THE PUPS LOVE THE LONG GRASS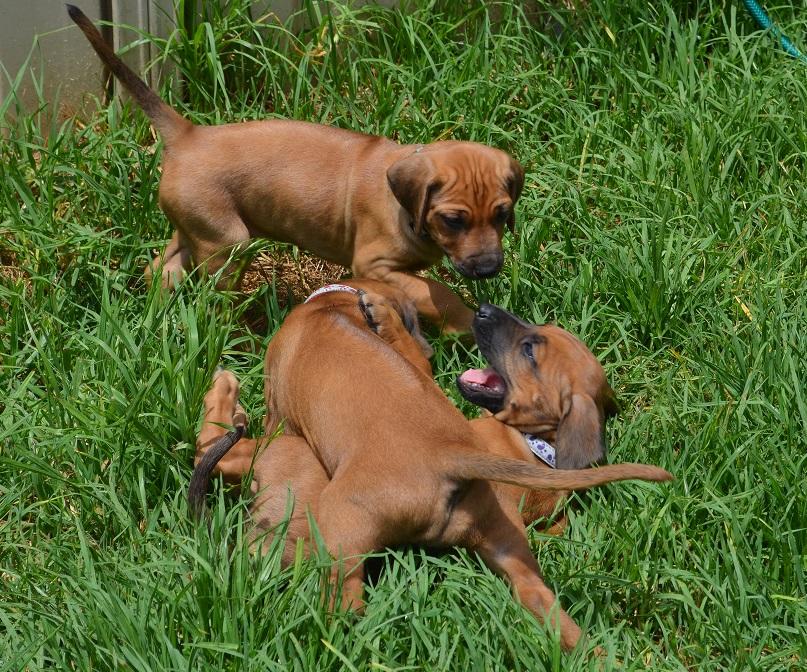 PICTURED AT NEARLY 3 WEEKS
GIRL 1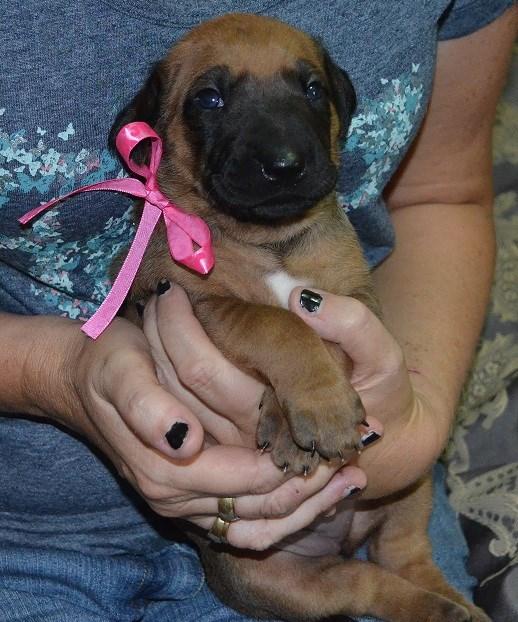 GIRL 2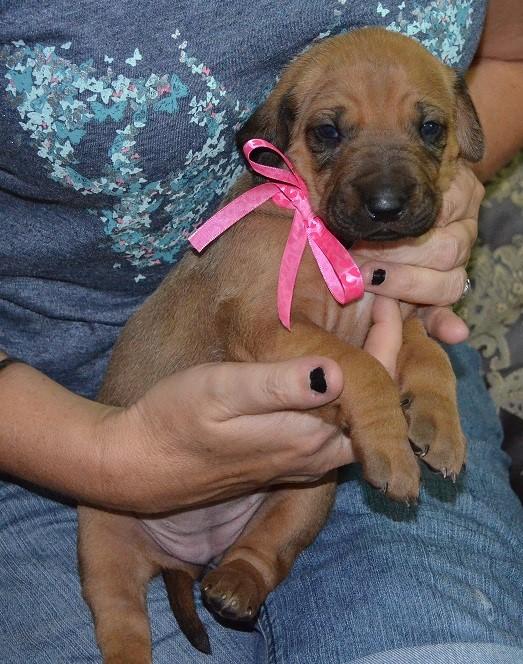 GIRL 3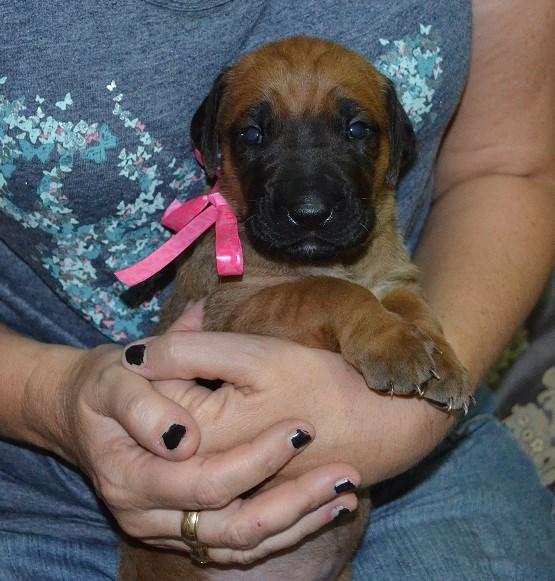 STAY TUNED FOR IMPORTANT UPDATES ..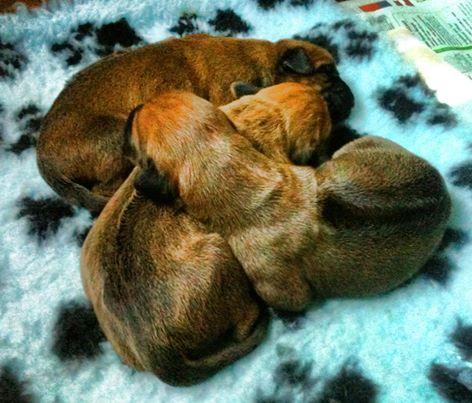 We use the following Hunter Valley vet practices: Cessnock Vet Hospital for all our puppy vet care ,vacinations,microchipping health checks and sinus checks . West Cessnock Vet for emergencys .. Greencross Vet Wyoming for specialist care ,breeding . (Peter ownes one of our Ridgebacks )If you wish to confirm reassurance or recommendation please do not hesitate to call they know us well and know how we raise our pups and care for our dogs and will not hesitate to recommend our dogs and our puppy's .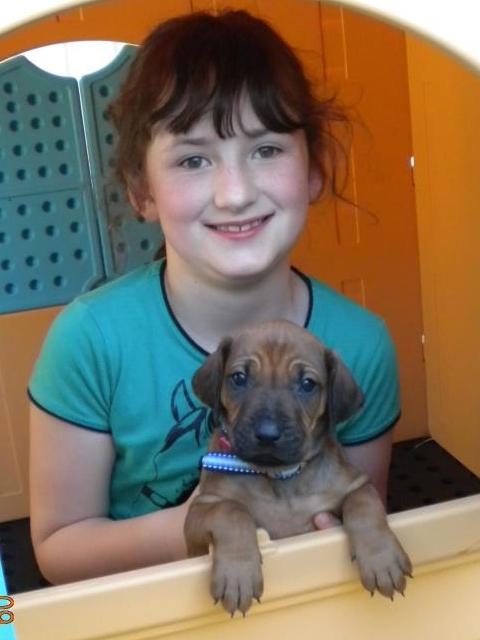 Please read below for details regarding
owning an Umkimzulu puppy
If you are interested in a family member and have no intentions to show your pup then you will be purchasing a puppy that will also come with a de sexing contract. (ORANGE PAPERS).COMPANION PUPS (not for showing nor breeding ). (ORANGE PAPERS).COMPANION PUPS (ridgeless) We may sometimes have a ridgeless puppy's whom we will offer at a special price .. we believe its unethical not to raise these pups .These pups will come with all the paperwork and contracts .

(BLUE PAPERS ) SHOW/BREEDING PROSPECT (Co- Owned with Umkimzulu ) If you are interested in showing your puppy it will be carefully selected and you need to register your interest early .Just because a puppy has a correct ridge does not make it a show puppy ,so much more goes into the conformation of a show potential puppy than that .That's when our experience comes into play .We will not sell a puppy to you unless we would be happy to exhibit it ourselves .If you are interested in a show qlty puppy please contact me . (PLEASE NOTE ALL BLUE PAPERED PUPS WILL BE CO- OWNED) (contracts apply for two years on co ownership) (PLEASE NOTE THIS IS NOT APPLICABLE WHEN SENDING SHOW PUPPIES TO SHOW HOMES OVERSEAS)
COST 2014 Co Ownership $2000.00 .

EVERY UMKIMZULU PUPPY ..goes home with a goody bag ..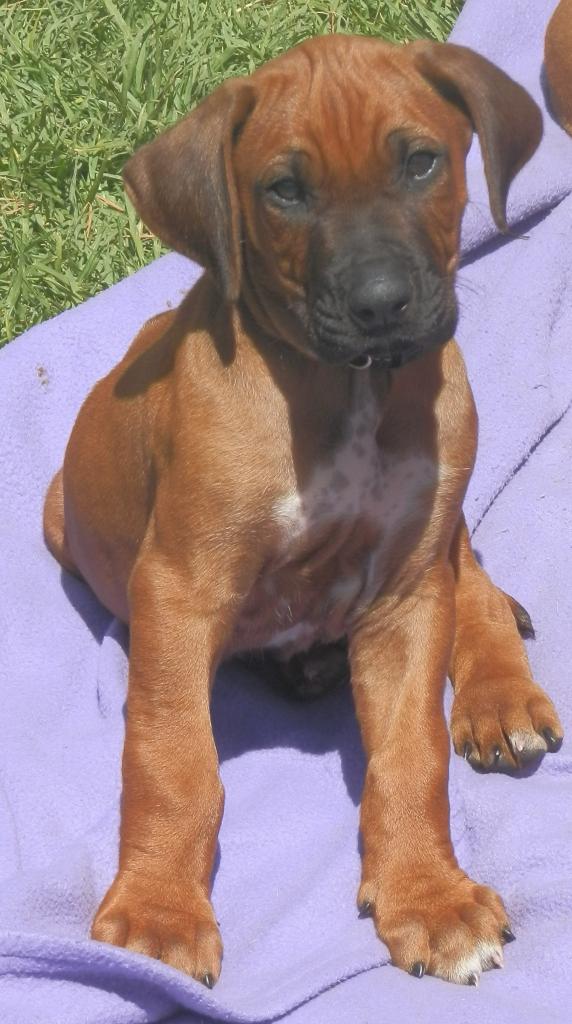 *Official Umkimzulu Breed Booklet designed by us .
*Puppy Blanket *Toys *Collar *DOGS NSW BLUE Papers (SHOW/Breeding PROSPECT ) *DOGS NSW ORANGE Papers (PETS )
*Health Warranty fully checked at birth by Vet vaccinated at 6 weeks,including vets name and details .
*Fully Wormed every 2 weeks with Drontal,(details in booklet) *Vaccinated(C3) and full health check,
*Micro chipped
*Checked for Dermoid Sinus ,by vet,and myself.
*Heartworm treatment advised
*Protected from flea's with a treatment of Frontline .
*De Sexing Contract pets only
*Pups picked up locally a few days of food and toys .
*Information regarding Pet Insurance
*Copies of Hips and Elbow scores of parents
*Copies of testing of DM when applicable .
EOAD - Rhodesian Ridgeback Early Onset Adult Deafness
All our breeding dogs and bitches tested CLEAR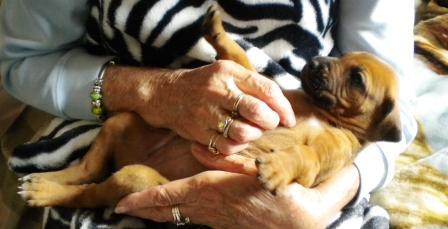 Umkimzulu pups are well socialized with Children and other dogs and animals and come with full breeders support,A contract includes sections which covers the owners,breeders and the puppy. We ask that all pups attend Puppy pre school and basic obedience classes .I will also have a web site with links so you can follow the progress of the litter from birth to 8 weeks
PLEASE CLICK ON BREEDING LITTER INFO FOR LOTS MORE PHOTOS AND INFORMATION .